For the "Do It Yourselfer"
Are you a Do It Yourselfer? If you are we have great news for you here at Easton Sod Farms. We not only provide the top quality turfgrass for your project but we give a Step by Step Guide to help you measure, prepare and install your sod. Never hesitate to call the leading experts in sod here at Easton Sod Farms. Our goal is to help you in anyway that we can from choosing the right sod, how much sod and giving you the knowledge to make your project come to life! The customers and contractors have been relying on Easton Sod Farms for the last 40 years. Getting you the right grass and answering everything you ask! Today is a great day to start!
What does Certified variety mean?
The Oklahoma Crop Improvement Association in cooperation with Oklahoma State University is the official seed and sod certifying agency for Oklahoma. Sod certification is a program that involves verification and purity of specific varieties produced by the sod grower. It certifies to the purchaser that a particular variety is what the grower says it is. Before a variety is certified the field has to be pre-inspected to insure that no other foreign grasses are present to contaminate the variety being planted. The sprigs or stolons then have to originate from a Foundation or Registered source to insure purity. Then the field has to be re-examined by the Oklahoma Crop Improvement Association for final certification. Not all varieties of turfgrass are available for the certification process.
How do you measure how much sod is needed to cover an area?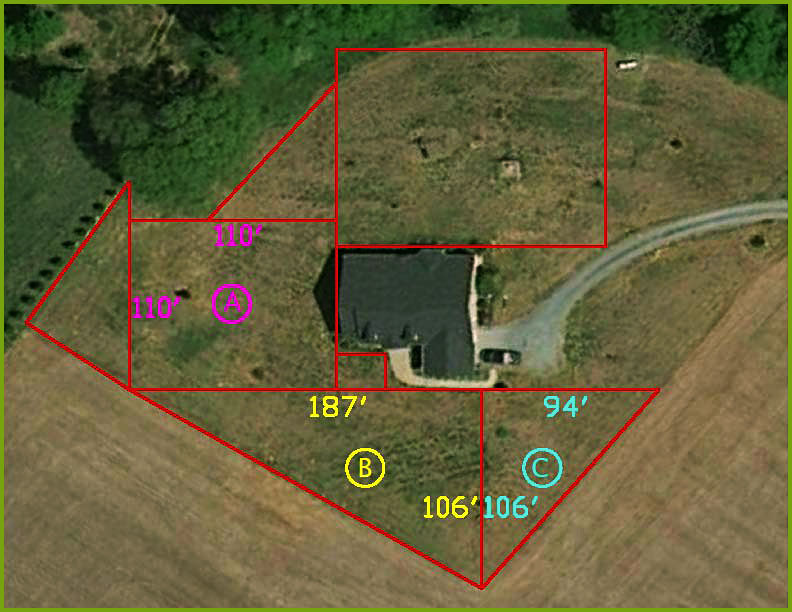 CIRCULAR AREA
A = 3.14 x R2
Example: Circle's radius (r) is 10 feet. Multiply the known 3.14 by the radius squared, thus:
A = 3.14 x 102
A = 3.14 x 100
A = 314 square feet
SQUARE/RECTANGLE AREA
Typical Sod Measurement
A = Base x Height
Example: 'B'ase is 10 feet, and the 'H'eight is 10 feet, thus:
A = 10′ x 10′
A = 100 square feet
TRIANGULAR AREA
A = (Base x Height)
Example: 'B'ase is 10 feet, and the 'H'eight (base to point) is 20 feet, thus:
A = 10′ x 20′ A = 200
A = 100 square feet
COMBINATION FREE-FORM & BREAKDOWN TO FORMS
Break the free-form area to obvious forms and calculate each form's area. Once each form is calculated, add the areas together to derive a total area.
Install Guide
1. Measuring the Area
If the area you want to sod is a basic square or rectangle you simply measure the length by the width and multiply to come up with the total SF. However, in most cases the area doesn't have a simple rectangle layout. In those cases, one method of calculating your SF is to divide your area into smaller sections, and add the SF of each section. If you would sketch your area (including all your measurements) and visit one of our sod sales locations, we would be happy to determine the amount of sod you need from your sketch.
Print Turf Calculator Here: Turf Calculator
2. Soil Preparation
Proper soil preparation saves time and money in the long run. Loosening the soil surface is beneficial for incorporating fertilizer and facilitates quick root growth from your freshly installed sod. Cultivate the area by roto-tilling or spading to a depth of 4-6 inches. Remove all debris such as roots, wood, large clods and such. It is always best if you have your soil tested for proper pH factor and nutrient deficiencies. You can take a soil sample to your local O.S.U. County Extension office for a soil analysis. Apply a balanced fertilizer (such as 10-20-10) to the area.
If you are installing sod under large older trees, chances are you will have a high acidity level and ag lime should be applied before sodding. Complete final grading and smoothing by hand raking or tractor mounted box blade. Be sure to slope soil away from buildings to prevent drainage problems. Roll or water your graded area to settle and firm the surface. This will reveal low areas that require more soil.
3. Installing the Turf
Begin placement of your sod along the longest straight line, such as a driveway or sidewalk and work toward the middle. Snugly fit the edges of your turf against each other. Avoid gaps and overlaps. On sloped areas, install your sod rolls or slabs lengthwise and parallel to the slope. Stagger the joints in a checkerboard fashion. Depending upon the grade, sod staples or stakes may be required to hold the sod in place until root establishment. After installing the turf, tamp or roll the area to eliminate air pockets and to ensure proper contact between the sod and underlying soil
4. Watering
Water your new turfgrass immediately. Initially, apply at least 1″ of water so that the soil underneath is very wet. Pull back a corner of sod to verify your watering is penetrating the underlying soil. Make sure that the water is getting to all the areas of your lawn and that no corners or edges are missed by your sprinklers. Weather conditions will dictate the frequency and amount of water to apply. It is critical to keep the underlying soil moist for two weeks or until your turf is well rooted. Frequent and lighter applications of ј" water daily should be adequate in the absence of rainfall. As the turf becomes more established, begin deeper, less frequent water applications to promote deeper rooting and hardier turf. Be sure your new turfgrass has enough moisture to survive hot, cold or dry conditions
5. Keep Off the Grass!
installation5
During the first couple of weeks after installation, keep traffic off your newly planted turfgrass as much as possible. Your new turfgrass needs time to firmly knit with the soil. If you have properly watered your turfgrass it will be moist and soft. Traffic will create indentures and destroy your smooth grade. Do not mow until firmly rooted into the underlying soil.
6. Maintenance
Your new turfgrass significantly enhances your property value. With proper care it will be a permanent enhancement and provide beauty for years to come. It is preferable to mow regularly removing less grass height as opposed to mowing taller grass less frequently. The proper height in which to mow your turfgrass will depend upon the variety. A good rule of thumb is to not remove more than 1/3 of the grass height in a single mowing. Weed control chemicals should be avoided for at least 3 to 4 weeks following planting. In small areas, weed control can be accomplished by hand pulling.
Print Maintenance Guide Here: Sod Maintenance
The organic arsenicals (DSMA, MSMA) are available on newly sodded bermudagrass for control of emerged summer annual grassy weeds such as crabgrass and sandbur. Broadleaf weeds can be controlled with 2,4D and related compounds. Check with your local chemical dealer for the herbicides available and recommended rates of application for your variety of turfgrass.
Determine the Variety of Turfgrass and How Much Grass do you Need
To insure we have your sod quantity available when you need it we encourage you to call ahead and place an order with as soon as possible! You can pickup your sod at any of our sod stores or we can deliver your sod for you upon your request.
Bermuda and fescue sod is sold by the square foot or in rolls. A roll of Bermuda or fescue measures 18" x 6' or 9 sq. ft. per roll. A typical pallet of contains 500 sq. ft. You do not have to buy full pallets of sod. We will sell you whatever quantity you need.
Zoysia and Buffalograss sod is sold in slabs. A slab measures 18" x 3.75' or 5.62 sq. ft. A typical pallet contains 400 sq. ft.
Big Roll sod is also available for all turfgrass varieties grown by Easton Sod Farms in Oklahoma. A big roll is sold by the sq. ft. and measures 42" X 116' OR 405 SQ. FT PER ROLL. Because of its size and weight, a tractor or forklift equipped with a big roll attachment is required for big roll installation. Big roll sod is sold by the sq. ft. or sq. yd.
Print the Install Guide Here: Install Guide
Seasonal Care
Fescue Maintiance Guide: Fescue Guide
Bermuda Maintiance Guide: Bermuda Grass Guide
Sun and Shade
Looking for information about seasonal care for sod? Welcome! Easton Sod Farms provides every customer with the information you need to move forward in purchasing the right grass for the right project. Our goal is to see your professional or your home landscaping project to be a success! We walk you through the types of sod that would work best for your vision. We have worked with everyone from the professionals to the homeowners. No one has more varieties of grass then Easton Sod Farms in Oklahoma.
When selecting a turfgrass for your renovation or new installation project you must first select the turfgrass variety or blend that is most suitable for your site. How much sunlight or shade the area receives is a very important consideration. Turfgrasses will not grow under heavy, dense shaded areas due to lack of sunlight. They will develop a pale color and gradually thin out.
Of the warm season turfgrasses available for the Oklahoma climate, Zoysia will tolerate the most shade. It will provide a dense cover in areas of up to 50% shade. Cool season grasses that will tolerate hot Oklahoma summers are Fescue and shade tolerant cultivars of Bluegrass and perennial Ryegrass. Fescue is the most popular in Oklahoma, tolerating up to 70% shade. Some varieties of Bluegrass will tolerate up to 60-65% shade. Also remember that grass grown in the shade should be mowed about 1 inch higher than grass grown in full sunlight allowing more leaf area to receive the limited sunlight. Please call or visit Easton Sod Farms for more information on the selection of turfgrass most suitable for your project.
Spring Care
If the grass is matted down then fluff it up with a leaf rake. Aerify and fertilize at the same time. This is not a bad time to over-seed if it is necessary but don't expect too much.
If there is a real thatch problem (over 1″ thick) then thatching is necessary. Make sure the grass is growing well before power raking since it is stressful to the grass. You can aerify after raking, thatching does not eliminate aerification. A good yard maintenance program is what eliminates thatch. If there is a crabgrass problem then a pre-emergent herbicide will be needed. The herbicide works best if applied as soon as the soil temperature goes over 50 degrees but before it gets to 52 degrees, or when the "Forsythia" blooms. Make sure any thatching and/or aerification is done before the herbicide is applied.
Make sure the mower and the sprinklers run. Hopefully the times, per station, required for a 6″ deep soaking, were saved from last year as they will be the same this year. Check the fertilizer program for the season. Try to use the right kinds at the right time. Over watering and over fertilizing cause 99% of the grass problems. More water needs more fertilizer that needs more water. It is important to hava a sharp mower blade, so remember to check the blade before mowing.
Summer Care
Proper watering, fertilizing and mowing are essential to maintain a beautiful lawn.
When the days are hot,the nights are cool, and the humidity is high; a lot of slender, white mushrooms can appear. These particular mushrooms only appear in a new yard for the first couple of years and indicate the yard is healthy, if a bit over watered. These mushrooms have a medium length stem and a cone-shaped head. They are not edible. Keep the kids and pets away. These don't last very long after the sun comes up. If you want them to go away faster, drag a garden hose over the yard. This will break them off so they will dry up and disappear faster.
Fall Care
Fall is a good time to aerify turf. Don't go over and over the yard with the aerifier. Too many holes and the ground will settle in on itself and end up being just as compacted. Too many holes too close together will cause a low spot. Make sure you mark the sprinkler heads so you don't hit them with the aerator!
Don't let leaves pile up on the grass! They cut off sunlight and draw a lot of moisture from of the ground, denying your grass its nutrients. Leaves left through the winter almost always attract disease and left in flowerbeds can create a fire hazard.
It seems like there is a lot to do in the fall and most people are glad the season is ending but little things done in the fall keep you from being overloaded next year. A good fall sets the stage for the next season and makes it so much easier.
Winter Care
Changing climate conditions can result in very dry and cold winters. Your lawn may need an occasional watering with a hose. This is rarely needed for new sod, if it was soaked when it was installed. Mature grass almost never needs supplementing but be very watchful of trees and ornamentals, even older ones.
Winters can also be very mild and the grass can grow too long. If the grass gets too long, it might be necessary to mow once before Christmas.
Snow piled up along walks and driveways will compress the grass . When the snow melts use a leaf rake and fluff it up a little. Your grass will appreciate the attention.
Be careful of de-icers used on walks and driveways. These can be very damaging for your lawn. There are plenty of good, safe choices on the market. Read the ingredients list before you buy.
Print Maintenance Guide Here: Sod Maintenance
We provide you with the information you need to move forward in bringing your project to life! Surround your home with the best grass in the industry and watch it flourish as time goes by. At Easton Sod we want to do everything we can to help you move forward and watch your project be a huge success! The company has over 4 decades of knowledge, skill and experience when it comes to handling turfgrass. Don't put it off any longer! Find out what you need to know to start moving forward.
Easton Sod Farms has had the great opportunity to work with the professionals and the homeowners. If there is anyone who can lead you in the right direction, it is going to be Easton Sod Farms. Rely on the number one choice for homeowners throughout the Midwest and sports teams including the Kansas City Chiefs, Oklahoma State University and many more! Trust Easton Sod Farms in Oklahoma and Kansas to lead you in the right direction from start to finish.
Call one of our locations today to get started! Talk with one of our full time team members awaiting your call. You can have the yard you have always dreamed of. Easton Sod Farms leads you one step closer towards the American dream. You won't be disappointed! For the Do It Yourselfers, we are here to help you do it.