Easton Sod Farms, Inc. offers the following products in store
Fertilizers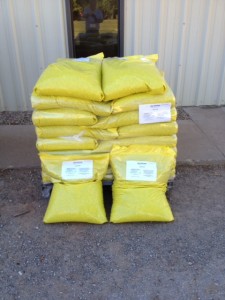 Easton Sod Farms, Inc. carries fertilizer to fit your own need. From 10-20-10 to 46-0-0 to Organic, Easton Sod Farms, Inc. has the fertilizer needed for any newly sodded or already existing lawn. Easton Sod Farms recommends fertilizing in the early spring and following at 30-day intervals. Upon completions of the sodding your lawn should be fertilized within 20-30 days to give it a good start. Any time the grass turns yellowish-green more than likely it needs fertilizing. To spread the fertilizer, we recommend using a rotary spreader as it is the easiest and fastest way.
If your still not sure on what you need for your lawn, Easton Sod Farms in Tulsa can help you determine what fertilizer is going to be best suited for your lawn.
A well fertilized healthy yard is the best defense against weed invasions. But if you do run into problems, we have just what you need. From per-emergent to help prevent seed germination to post emergents which kills the weed.
To rid yourself of broad leaf weeds, a post-emergent chemical is normally used. They are most effective when the weed is vigorous and the temperatures are warm. Crabgrass is easily controlled with a pre-emergent chemical in order to get the seeds waiting to sprout in the early spring.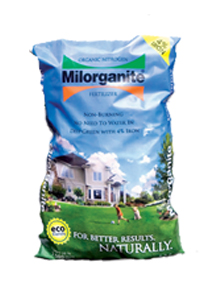 Milorganite Lawn Fertilizer
An excellent lawn fertilizer, Milorganite (6-2-0) contains 4% iron. Grass leaves take up this iron, giving them a deep green color. However, unlike high nitrogen fertilizers, iron does not make plants grow fast. The result is a lawn with the color you desire without excessive growth (and mowing!). For the best part, this deep green color stays with the lawn through hot, dry summer months. Plus, because this iron is organically complexed, it does not stain concrete, like yourdrives, patios, sidewalks or other areas. Ideal for trees, shrubs and ornamentals, too! Pelleted for easy application. Will not burn and safe for the environment. 50 lb. bag covers 3,100 sq. ft. Ingredients: Biosolids (activated sewage sludge).
Availability: Normally ships in 1 business day. For large order quotes please call us at 1-918-366-2500
Green Mountain Grills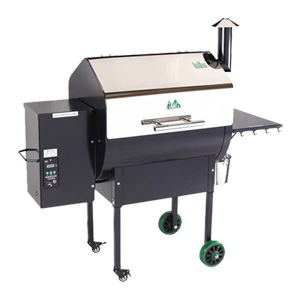 Green Mountain Grills are sold at Easton Sod Farms!
Give us a call to find out which location has your Green Mountain Grill.
Find out more about this product by Clicking Here
Lawn Supplies
Find the right and ideal lawn supplies here at Easton Sod Farms in Tulsa! Anything that we can provide to help further along your project is why we are here! Keep your grass looking healthy, fresh and green with Tulsa's leading sod professionals in Oklahoma. Check out our lawn supplies below!
Hi-Yield Crabgrass Weed Control
This product must be applied BEFORE crabgrass weeds germinate and emerge from the soil.
Hi-Yield Crabgrass Weed Control Granular is a pre-emergent, selective herbicide for control of crabgrass, foxtail, goosegrass, barnyardgrass, and other listed annual weed grasses. Hi-Yield Crabgrass Control should be used on established turfgrasses, including Bahiagrass, Bermudagrass, Perennial Bluegrass, Fescue, St. Augustinegrass, Zoysiagrass, and other high cut bentgrasses. Appropriate for season-long control on lawns, golf courses, and other grassy areas. Crabgrass Weed Killer should be applied 1 to 2 weeks before germination of annual grass weeds for best control.
Availability: Normally ships in 1 business day. For large order quotes please call us at 1-918-366-2500
Hi-Yield Turf Ranger Insect Control Granules
Formulation: Deltamethrin
Broad spectrum residual insecticide for the control of certain insects in home lawns including but not limited to: ants, armyworms, chinch bugs, crickets, fire ants, fleas, grasshoppers, scorpions, spiders, European Crane Fly and chinch bugs.
Application Rates: 2 to 3 lbs. per 1,000 square feet. Consult label for specific application rates.
Availability: Normally ships in 1 business day. For large order quotes please call us at 1-918-366-2500
Hi-Yield Turf & Ornamental Weed and Grass Stopper
Hi-Yield Turf & Ornamental Weed and Grass Stopper contains dimension pre-emergent which provides superior control of crabgrass as well as control or suppression of other listed weeds when applied before they germinate. This product will also provide post-emergent control of crabgrass only and is effective on crabgrass up to 4 to weeks after it has germinated and emerged. Do not apply this product later than 4 weeks after crabgrass has germinated. Hi-Yield Turf & Ornamental Weed and Grass Stopper can be applied to both warm and cool season grasses. Please read the product label for full treatment instructions.
Bonide MOLEMAX
The Bonide MoleMax Repellent Granules are clean, dustless, and biodegradable. It is safe for use around children, plants, and pets. It repels moles, gophers, voles, armadillos, skunks, rabbits, and other burrowing animals in lawns, flowerbeds, and gardens. MoleMax lasts up to 3 months and 1 lb. will treat 500 sq. feet. It contains Rucinus Communis Oil .
Control damaging moles, rabbits, and other burrowing pests year round with Bonide Organic MoleMax Mole & Vole Repellent. When used as directed, this product is effective in repelling burrowing animals such as gophers, armadillos, skunks, ground squirrels, moles, and rabbits from your lawn or ornamental planting areas. Safe around children and pets, MoleMax is biodegradable and will not harm lawns, gardens, flowerbeds, or other desirable plants. Protect your plants from damaging and annoying burrowing pests with Bonide Organic MoleMax Mole & Vole Repellent.
Hi-Yield Super Concentrate KillZall Weed Killer
Hi-Yield Super Concentrate KillZall Weed Killer has the same active ingredient as Roundup® Ultra®, but much cheaper.
KillZall Herbicide Application Rates:
General weed control: 3 tablespoons per gallon
Tough weed control & brush: 5 tablespoons per gallon
Each gallon covers 300 square feet
Liquid Dr. Iron Pint RTS
Ingredients: Derived from Dipotassium Phosphate, Iron Citrate, and Potassium Hydroxide. Description: Liquid Dr. Iron is a citrate based 8% fully chelated iron plus phosphorous and potash. It is formulated for foliar and soil applications. Liquid Dr. Iron is designed to supplement your regular fertilizer program especially where iron is deficient.
Analysis: Available Phosphate 5.0% Soluble Potash 8.0% Iron: 8.0%
Application Recommendations: Thorough coverage is needed for optimum foliar results. Apply every 4 weeks. Corrects Iron Deficiency In Shrubs, Ornamentals, and Turf Dual Action-Absorbed Through Both the Leaves and Root Systems. Does Not Stain Concrete When Used as Directed
Bond 8205 18″ Professional Grade Machete Features:
high-carbon tempered steel blades with serrated top edge for cutting heavy brush and undergrowth
includes canvas sheath , molded grip
Professional grade machete
High-carbon tempered steel blades with serrated top edge
For cutting heavy-duty brush and undergrowth
Includes canvas sheath
3 year guarantee
Soil PH Check
Mulches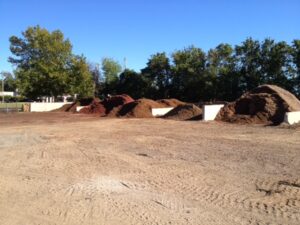 Delivery is available straight from sod store locations! Please call to set up delivery today. Pick-up is available 6 days a week.
4 Reasons Why You Should Buy Your Mulch from us at Easton Sod Farms, Oklahoma and Kansas Sod Professionals!
We carry Cedar, Pine, Black and Red Hardwood Mulch.
Mulch is sold per cubic yard.
We can load your pick-up truck or your trailer on site.
We also offer delivery. Can deliver up to 5 cubic yards per delivery
Easton Sod Mulches Include:
CEDAR MULCH – Great for starting a new flower bed or expanding an established one. – Finely ground up and shredded. – Good for detracting insects. – Also good for weed control. – Both renewable and recycled, comes straight from the bark of cedar trees.
BLACK MULCH – Helps prevents the growth of weeds, decreasing the amount of weed killer needed as well as manual labor in removing weeds. During the cold months black mulch attracts more sunlight, providing better insulation for your plants than other colors. – Eye catching appearance. – Makes plants colors stand out in flower beds.
RED MULCH – Color in mulch helps promote plant growth. – Good for vegetable gardens. Especially good for tomatoes and strawberries. – Make green plants look plusher.
PINE BARK MULCH – Attractive appearance. – Slow to decompose and generally lasts a year or more. – Can be used as a soil conditioner.
Not sure how much mulch you need to cover your area? This square footage chart for cubic yards needed for depth of mulch should help. Why do you need mulch?
Railroad Ties / Cross Ties
Easton Sod Farms high quality Premium Rail Road Ties.Our ties are heavy duty and weight anywhere between 180 and 230 lbs!
Reasons why you should use Rail Road Ties for your next project and why you should get them from Easton Sod Farms in Tulsa!
Good for solid sides and landscaping! No rot, minimal plate wear and minor end splitting.
Good for flower bed borders, retaining walls, flower bed boxes, stairs, and much more!
Anything you make out of these quality heavy duty ties will last for years.
Cross-ties come banded to 16 in a bundle.
They are economical and easy-to-use. Rail Road Ties can be used to build rustic retaining walls, raised flower bed, borders, steps, and more!
You can still buy them individually for the same low price.
Rock and Gravel
If you are looking for rock, gravel or sand then you are in the right place. Bringing you top quality products and just what your looking for when it comes to all your Oklahoma and Kansas landscaping needs. Three Things you Should Know…
Bulk Rock and Gravel is sold per cubic yard.
We can load your pick-up truck or your trailer on site.
We also offer delivery. Can deliver up to 5 cubic yards per delivery
Our rock and gravel includes:
2″ and 7/8 X 5/8 Decorative Gravel
– Can be used as mulch, ground cover, driveways and filler around pools and patios.
– Used as mulch it can help retain soil moisture, block weed growth and enhance drainage.
– Erosion Control.- Driveways and walkways.
¾ Crusher Run Gravel
– Used for driveways, parking lots, filling holes, pathways, etc…
Sand
– Can be used for leveling ground, play grounds, sand boxes, volleyball courts, etc…
– Used as bedding material for brick and stone patios- Sand bags can be used for erosion control.
Not sure how much you are going to need? This conversion table should help you out!
Stone Coverage Calculation
For 1 cubic yard of stone (27 cubic feet):
| | |
| --- | --- |
| Suggested Coverage | Stone Depth |
| 160 sq. ft. | 2″ |
| 108 sq. ft | 3″ |
| 80 sq. ft. | 4″ |
| 54 sq. ft. | 6″ |
Suggested Stone Depth
| | |
| --- | --- |
| Size of Stone | Stone Depth |
| 1/2″ | 2″ |
| 3/4″ to 1″ | 3″ |
| 1″ to 2″ | 4″ |
Seed Varieties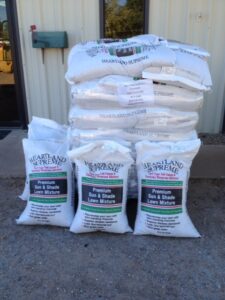 Easton Sod Farms, Inc. brings you more green! Many Oklahomans have at least some fescue in their lawn because of its ability to tolerate shade. And!  Because the lush green color lasts most of the year many more Oklahomans would like to have a fescue lawn!
A trip to the Oklahoma State University Research Center confirms that with proper maintenance most varieties of turf-type tall fescue perform very will in Oklahoma. So, what's the secret? One key to success is prevention of turf-grass diseases.
If you are from Oklahoma you have probably learned to adapt to heat and humidity. Cool-season grasses, however, are unable to escape its ill effects. Heat and humidity combine to create an ideal environment for disease and during this most stressful time of year, fescue lawns, without proper maintenance, inevitably struggle to survive.
So what is the answer? Dr. Dennis Martin, Turfgrass Extension/Research Specialist at OSU recommends mixing well-adapted varieties of turf-type tall fescue with Kentucky bluegrass. Diversifying the mixture of seed used in lawns will result in better overall turf quality, disease resistance and appearance according to Dr. Martin.
So, now you ask, what are considered well-adapted varieties? How much of each do I use? Where can I get Kentucky bluegrass and if I can't use just any variety how do I know what to use? And, last but not least how do I mix them?
photo copy 4
Well, look no further. Heartland Supreme was developed to meet the specifications recommended by Dr. Martin. Heartland Supreme is a grass seed mixture that is mixed, packaged and sold exclusively by an Oklahoma company for Oklahoma lawns based on recommendations from Oklahoma State University. So, for greener grass on your side of the fence, try Heartland Supreme.
Seed Varieties
REMBRANDT TALL FESCUE
VAN GOGH TALL FESCUE
SPEEDWAY TALL FESCUE
SKYE KENTUCKY BLUEGRASS
OTHER CROP
INERT MATTER
WEED SEED